By Alex Trukan
This practice combines multiple 1v1 situations with the physical component of Anaerobic Endurance. The organisation of the exercise allows many repetitions of maximal intensity efforts, what is aimed to improve the ability of the body to sustain high quality (speed and strength) actions throughout the whole match. Competitive format of this practice aids motivation and doesn't require much concurrent involvement of the coach. Ideally, this 1v1 circuit is designed for 8 players and a goalkeeper, however it can be adapted to suit other numbers as well.
Set up and directions:
Organize an area of two penalty box sizes. Set up two full sized goals on the opposite sides, facing each other. There should be one goalkeeper in each goal. Divide the team into pairs. Starting positions as shown on diagram. Assistant coach or player from the group behind is required to pass the ball into the area.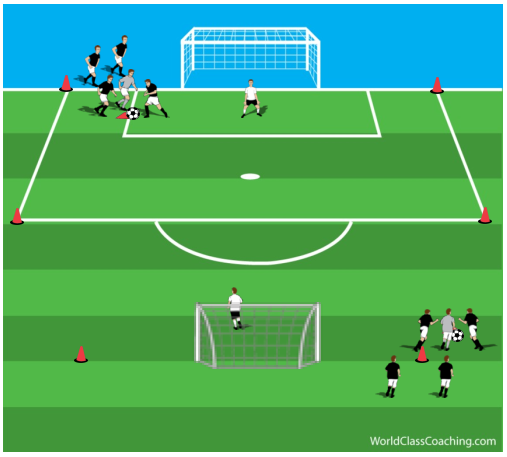 The practice starts as the ball is played into the area, between two players. The ball should be passed at the same time from both sides. First player to the ball becomes attacker, second one becomes defender.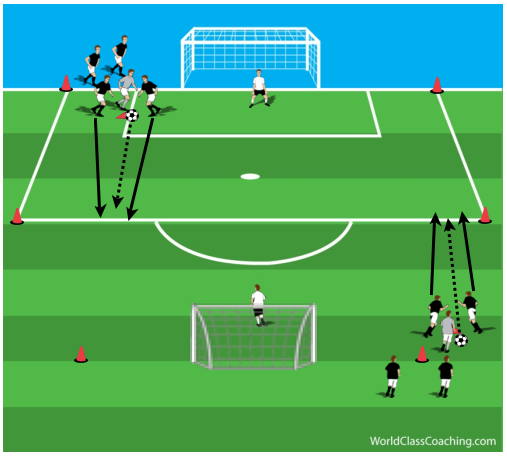 As shown on the diagram below, the aim of the attacking player is to score a goal. If defender manages to get the ball, his aim is to score into opposite goal. The game continues until the goal is scored, the ball leaves the area or up to 6 seconds. After 1v1 game is finished, pair joins back of the opposite queue.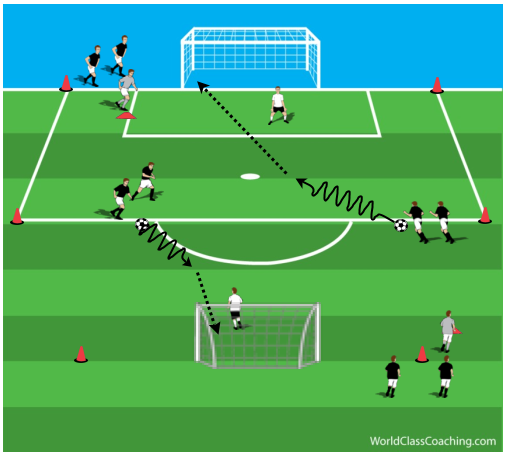 Timing:
One repetition of 1v1 should last no longer than 6 seconds. That should be repeated 6-10 times in 2-4 series. The resting period between each repetition is 10 seconds, while between each series – 4 minutes.
Variations:
Vary starting positions of attacker/defender
Change the size of goals
No goalkeepers
By Alex Trukan, Development Coach, Nottingham Forest