By Alex Trukan
The 'Hit the Ball' 1v1 Game is aimed at improving explosiveness and speed with the ball in a 1v1 competitive scenario. That will help the players to dominate duels against the defenders, improving the quality of ball control on the speed and under pressure. The organisation of the exercise, however, is not only focused on the dribbling content but also contains a passing element what makes it more competitive and match realistic.
Set-Up and Directions
Organise a 15×25 yards area with four cones, 5 yards apart, on each side. Place a ball on each of the end line cones. In 5 yards into the middle of the area, place another 4 cones in the same line as the end line cones. Divide the players into pairs. One player starts with the ball on one side of the middle area, while his partner positions himself on the opposite side of the central area.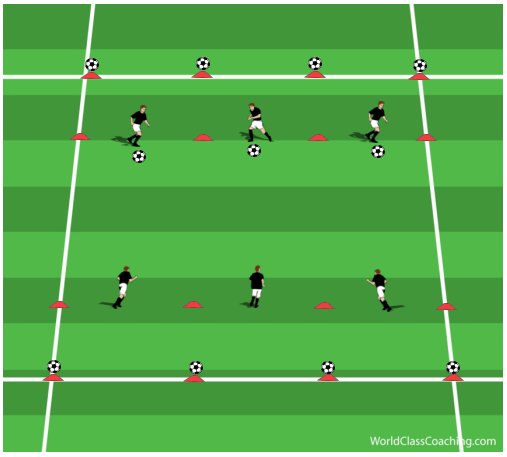 The game starts with a player in possession of the Continue reading 'Hit the Ball' 1v1 Game to improve Explosiveness →