By Jebreel Bubtana, BRASA, Brazilian Soccer Academy
This is a great way to get your players working hard in a 1v1 situation and you can set this up a number of times using small groups to keep your players active throughout the exercise.
The exercise starts just outside the 18 yard box with an attacker, defender and goalkeeper as shown below in figure 1.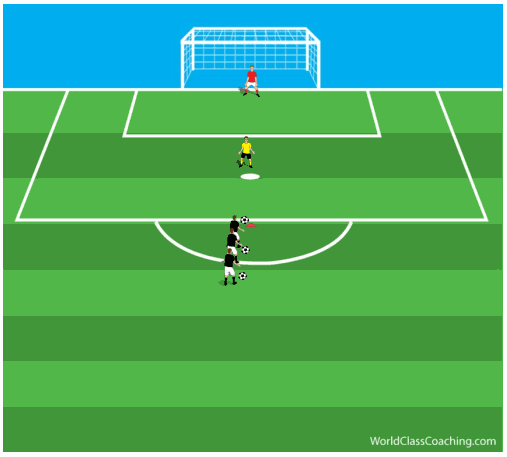 The attacker will go 1v1 against the defender who is stood around the penalty spot. The aim for the attacker is to beat the defender with a dribble and take a shot on goal (figure 2).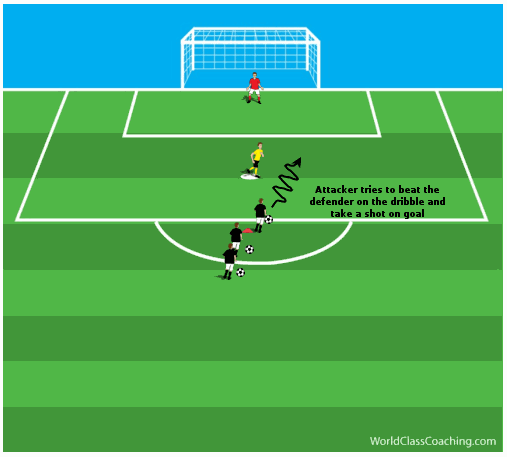 As soon as the attacker has taken their shot on goal, they become a defender. The next player waiting in line attacks the space and dribbles through towards goal to take a shot. The new defender must recover from the position where they had taken their shot and try to stop the new attacker from scoring (figure 3).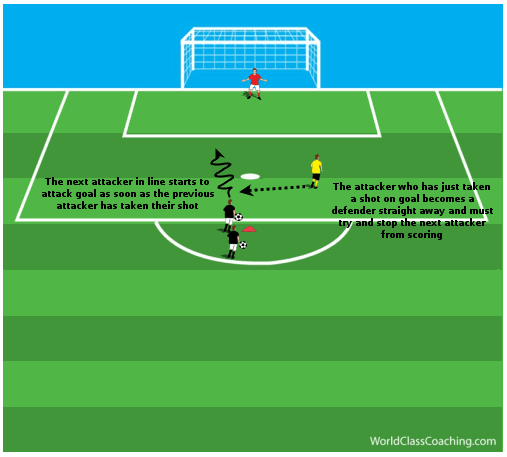 The aim is for this exercise is that it be as fast paced and continuous as possible. As soon as a shot is taken, the next attacker in line must dribble into the space quickly to make the new defender have to work hard to recover and stop a goal being scored. When done at this speed it is a great work out for the players and very fun as they will be taking many shots on goal. To add an incentive for the players, you can award points for the attackers when they score a goal and points for the defender every time they tackle the attacker or block a shot and so stopping a goal being scored.
Variations
This exercise can also be done with different numbers. It can be done with 2v2s or 3v3s and the same idea applies, as soon as the attacking 2 or 3 have taken their shot on goal, they become defenders straight away. Again, it is very important that as soon as a shot it taken, the attackers waiting in line attack goal straight away.
Jebreel Bubtana
NSCAA Advanced National Diploma
NSCAA Director of Coaching Diploma