Soccer Conditioning MonthlyNew Cutting Edge Soccer Conditioning Sessions and Drills Delivered Every Month for Improving the fitness and conditioning of Your Players
Finally, a course focused on soccer specific conditioning has arrived! Soccer Conditioning Monthly provides you articles and videos every month with new drills and exercises to improve your team's physical fitness so they can run harder for longer every game. With new drills delivered each and every month, Soccer Conditioning Monthly bridges the gap between soccer training and on-field performance and does all your conditioning planning for you.
Save 70% with one easy payment and get all 24 months
Dear Coach,
Are your players struggling for breath by the end of the game? Are they unable to make darting runs into the box or strong enough to hold off the opponent's attacks? Well, help has arrived because this special monthly soccer conditioning series provides everything you need to improve your team's conditioning.
Soccer Conditioning Monthly contains 24 issues that show you how to plan and run training sessions that will improve your players' strength, speed and agility. Comprising of articles in a print-and-go format and instructional video clips, Soccer Conditioning Monthly shows you step-by-step how to run new drills and training exercises that will develop your players into high performing athletes.  Subscribe now and you will have your first issue within minutes.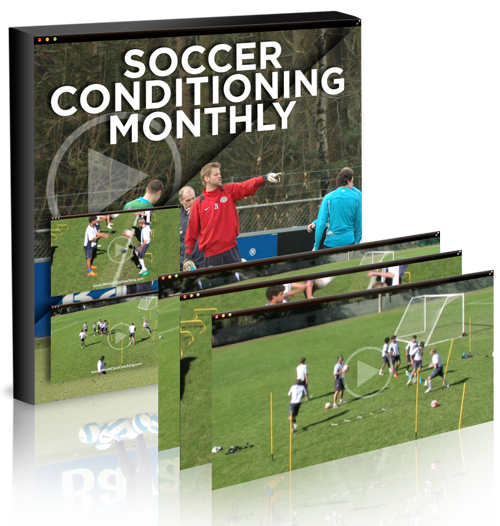 Through exercises, which can include drills with a ball, gym work and off-field drills, your players will be given training routines designed by a conditioning expert to improve their strength, speed and agility. Whether you coach youth players or at a professional level, Soccer Conditioning Monthly provides you with functional, highly effective and cutting edge practice sessions that will create a stronger, fitter team ready to run rings around the opposition in every game.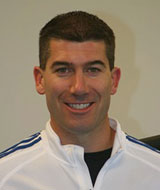 "Over the last 10 years, I have really come to enjoy the challenge of creating unique training programs for soccer players. The sport requires everything…speed, strength, reactive agility, aerobic fitness, repeated power, foot-eye coordination and above all, an unspoken communication and creative vision at full speed. It has been awesome to watch thousands of players come through this program and develop these areas!" – Scott Moody, Director, SoccerFIT Academy

"Access new functional and innovative practice sessions each and every month"
There's no question, soccer is one of the most physically demanding games around. The pitch is larger than in most other sports and players are expected to run almost constantly without regular rest periods. In fact, it's estimated soccer players will cover 8-12 km during a match, with constant changes in pace and direction placing constant pressure on their limbs and joints.
So it's no wonder that without the right conditioning, players can struggle to perform at their best. After all you can have the technique of Lionel Messi, but if you don't have the pace to get into the box or the fitness to get past defenders then you are going to struggle to play at your peak.
In addition, without the right conditioning and strength training players can risk injury. Strength training now plays a key role in soccer, both to equip players with explosive power but also with muscular endurance. So it's vital your players are given conditioning that strengthens their limbs and joints, both to avoid injury and to improve their performance on the pitch.
Delivered digitally every month, Soccer Conditioning Monthly is a unique training resource that every month will include articles and video clips that shows you everything you need to know about how to improve your team's conditioning, so your players can be equipped to perform at their peak and to stave off injury.

"Receive printable articles and videos every month and watch the improvements of your players"
Soccer Conditioning Monthly usually costs just $4.95 per month but you can get it with this special offer for a 70% discount with a one-time payment of just $37.
When you also consider the amount of time you'd otherwise spend trying to plan and structure a conditioning course yourself, Soccer Conditioning Monthly pays for itself in saved time.
So why not give it a try and see what time saving and performance benefits you will gain from this expertly created soccer conditioning series?
"A training series expertly created by two soccer conditioning specialists"
Soccer Conditioning Monthly features Scott Moody. One of the USA's most knowledgeable and experienced strength, speed and agility specialists, Moody is the founder and CEO of the Soccer F.I.T. Academy in Overland Park, and has worked with over 5000 young players in the last decade including hundreds of college players and even U.S. National Team players.
His passion for improving performance led to Moody creating a range of innovative resources for coaches that bridge the gap between the physical and technical development of players. Along with Soccer Conditioning Monthly, Moody is the creator of the Game Speed Testing System that is used at club and college level in the US and 21 other countries.
Moody is also a featured speaker, author and researcher for numerous organizations, equipment manufacturers and online training magazines in the field of youth soccer training and development.
Justin CresserSoccer Conditioning Monthly will also feature articles from Justin Cresser.  Cresser played semi professional for FC Sho de Bola in Hong Kong and studied at the University of Guelph, Canada, before swiftly moving into coaching. His first role was as assistant coach for the Varsity Women's side, for whom he helped to produce several OUA all star athletes.
Cresser then moved abroad in 2009 to expand his coaching knowledge in Hong Kong. His first appointment was as a senior staff coach at the Brazilian Soccer School, were he helped to develop one of the most prolific youth academies in Hong Kong for two seasons. Under Cresser's stewardship, the Brazilian Soccer School won numerous cup competitions, with the under 14 team winning the league.
While in Hong Kong, Cresser also took on coaching roles with the Panthers, an up and coming team in the Hong Kong women's league, and with the Taipo Football Club, one of the top teams in the first division of Hong Kong's professional league. Cresser then moved back to his homeland to take on the role of Assistant Technical Director at the Soccer Club of Toronto.
In addition to soccer coaching, Cresser continues to be a strength and conditioning trainer for both teams and athletes in a variety of sports. He holds and Advanced National Diploma from the National Soccer Coaches Association of America (NSCAA) and a Masters degree in Exercise Physiology and is a certified strength and conditioning specialist with the National Strength and Conditioning Association (NSCA).
What's included in Soccer Conditioning Monthly
Soccer Conditioning Monthly contains 24 monthly issues that provides all the guidance you need to run soccer conditioning coaching sessions for your players. Each digitally delivered edition comprises of a series of articles, in an easy to print newsletter format, and videos which demonstrate how the drills are performed.
The articles explain the theory, background and practical justification for every training session and drill. They then show you, with setup diagrams and the assistance of the videos, exactly how to run the training sessions for your players.
Soccer Conditioning Monthly covers a different area of conditioning training each month, which can include:
Quick feet drills utilizing cones and ladders
Drills focused on improving speed and sudden changes of pace
Strength drills utilizing medicine balls, bands and light weights
Rhythmic ball drills for technical agility and athleticism
Plyometric drills that teach players how to get in better positions and to move with more speed and power
Transitional drills for changing direction and pace
Pattern agility and first touch passing
Resistance training designed specifically designed for young athletes
Explosive speed training
Performance evaluation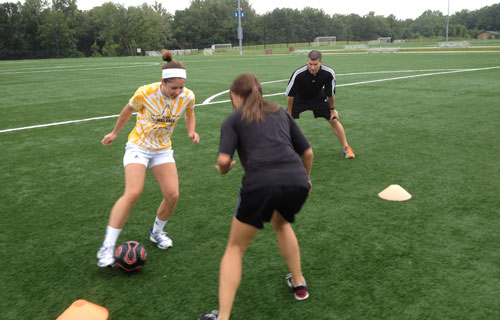 Scott Moody on the training field

What you will gain from Soccer Conditioning Monthly
Drawing on their extensive experience, Scott Moody and Justin Cresser have created an innovative conditioning training program that will help to improve the strength, speed and agility of your players.
From Soccer Conditioning Monthly you will gain:
New conditioning drills and exercises every month.
Videos which show you how to perform drills and provide tips for gaining the maximum benefits from every exercise.
Saved time from not having to plan a conditioning course yourself. Everything is done for you, so you know exactly what training exercises to use to work on a specific aspect of conditioning.
A fitter team, able to run longer and harder for the full 90 minutes (and extra time).
A faster team means your equipped to play an attacking style of play, with darting runs in the box and fast passing movements honed through agility conditioning drills.
Strength training will improve your players' ability to hold off opponents and win more balls
Strengthened limbs and joints mean a reduced risk of injury and your players will be better equipped to cope with the rigors of a full season.
Background information on why drills are used and how they transfer to real game scenarios.
Your players will love the challenge and variety of conditioning drills and exercises every month.
You will gain real measurable improvements to the agility, strength and speed of your players from working through sessions taught by an expert conditioning coach.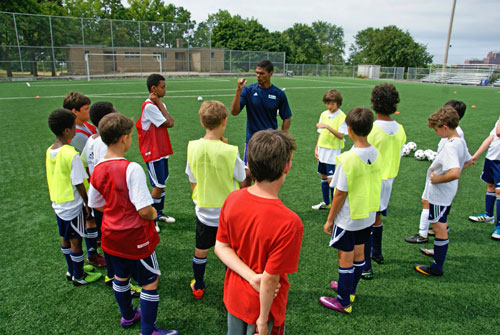 Cresser on the field explaining the upcoming drill

No Contract, No Risk Guarantee
WORLD CLASS COACHING is recognized globally for the quality of its soccer coaching resources, which are used by over 40,000 soccer coaches from around the world. We wouldn't be offering Soccer Conditioning Monthly unless it achieves our exceptionally high standards. However, if you are not 100% satisfied with the quality of Soccer Conditioning Monthly after six months of implementing its drills and exercises then please contact us for a no quibbles refund.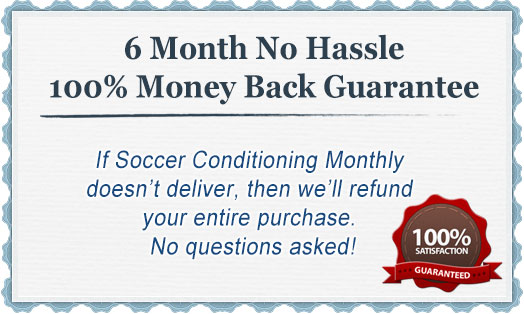 "You'll gain a team able to run faster for longer, and conditioned to perform at their peak"
Conditioning training is arguably just as vital to a player's development as technical training. If they aren't fit enough to last a game or agile enough to evade opposition defenders, then they will never be able to play at their best. Equally important is the need to develop strong limbs and joints to minimize the risk of injury and to give players the stamina to perform at a high level for the entire season.
Whether you coach youth teams or players at the elite level, Soccer Coaching Monthly gives you everything you need to look after the conditioning of your players. Through detailed articles and instructional videos, you are provided with step by step guidance on cutting edge conditioning exercises that will improve their strength, speed and agility.
With new conditioning exercises delivered to you digitally every month, you will never run out of ideas on the training pitch. Instead, you'll be able to make constant improvements that will develop a team that's able to run faster for longer, and conditioned to perform at their peak in every game.
Best Wishes,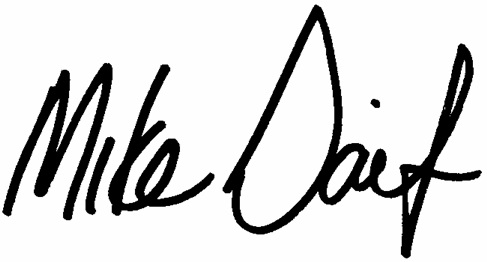 Mike Saif President
P.S. Soccer Conditioning Monthly is a subscription based soccer conditioning program that provides you with new articles and videos every month packed with new soccer drills focused on improving the strength, agility and speed of your players. The training exercises have been carefully chosen by expert conditioning coaches Scott Moody and Justin Cresser drawing on their experience of helping players to perform at their peak.
P.P.S  You have nothing to lose and there is no risk! If you're not happy with Soccer Conditioning Monthly, just let us know within 6 months for a full refund.
Get all 24 issues of
Soccer Conditioning Monthly at a 70% discount with one low payment
| | |
| --- | --- |
| Get Soccer Conditioning Monthly and receive online soccer conditioning articles and videos for 24 months for a one-time payment of just – Only $37 | |