Learn how to improve the fitness of your team using the proven conditioning methods of two of the nation's most respected and highly regarded soccer conditioning coaches.
We have combined the knowledge and expertise of two of the nation's top soccer conditioning specialists to bring you our incredible Ultimate Soccer Conditioning Training Pack. This pack consists of 15 videos and 3 eBooks that you can access instantly.
Dave Tenney of the Seattle Sounders FC, is one of Major League Soccer's most respected and highly-regarded fitness coaches following two years with the Kansas City Wizards.
Scott Moody, CEO of SoccerFIT Academy is one of the USA's most knowledgeable and experienced soccer conditioning specialists. Over the past 10 years, he has trained hundreds of soccer players including the following:
National Champions
All-Americans
Player of the Year Award Winners
All-Metro, League and State Award Winners
College Scholarships
Are you wasting valuable time during your training sessions to condition your players with wind sprints and shuttle runs?
Do you have to choose between fitness exercises and working on improving technique or tactics?
Now you don't have to choose…
Condition your teams with the Conditioning Training Pack and integrate TECHNICAL & TACTICAL elements into your conditioning sessions like Gus Hiddink did with Russia and S. Korea and Jose Mourinho has pioneered over the years with Chelsea, Inter Milan and now Real Madrid.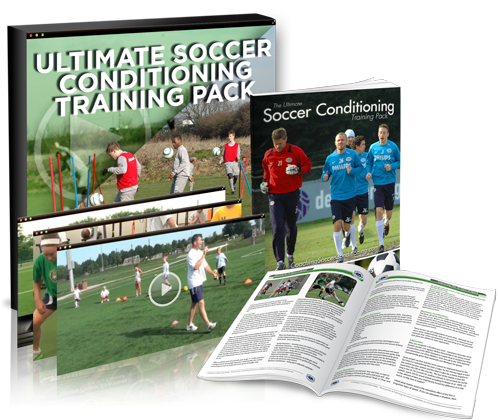 Now you can see dramatic improvements in your team's performances by learning from one of America's top specialized soccer conditioning coaches. Dave Tenney of the Seattle Sounders is one of the few people in the United States who has distinguished himself as a soccer-specific fitness coach. I have included more of Tenney's bio below but he believes in the same Conditioning Training methods that Mourinho, Hiddink and other top coaches around the world do, in that the conditioning work is all done with a ball.
Most coaches always struggle with the fact that they are not able to practice with their team often enough. Sound familiar? This leads to having to make choices over what to focus on in training sessions. On one hand it's important that your players are in shape, but on other hand, the need to improve technique and tactics seems even more important. What can you do?
Don't waste time with separate conditioning sessions
That's what!
There is a better way. The Ultimate Soccer Conditioning Training Pack sessions include technical, tactical AND conditioning elements. In other words, the days of conducting separate training sessions for conditioning with wind sprints, shuttle runs and long distance runs are now considered "old hat".
This Training Pack will show you how to integrate conditioning into your regular training sessions while your players have a ball at their feet and they are improving their technique or you are working on team tactics.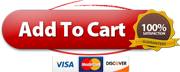 Have you ever heard this on the field?
"Can you make my son FASTER? He seems so slow compared to the other players."
"My daughter just needs QUICKNESS. She has great touch, but she just can't get away from defenders."
"My kid is just slow. I hear it's genetic…I hear you can't teach speed."These comments are heard from parents and coaches every day. That is why we put together the The Ultimate Soccer Conditioning Training Pack.
Get an entire season's worth of Soccer Conditioning workouts delivered all-digitally, available instantly through The Ultimate Soccer Conditioning Training Pack. This super-bundle includes over 15 online videos, and 3 eBooks; everything you need to get your players and team in the most incredible shape ever.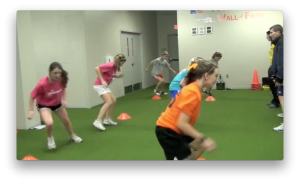 What is Fitness? The dictionary defines fitness as "good physical condition, being in shape or condition." It is synonymous to being in good shape, good condition and being physically fit. Fitness can either be health-related or performance-related. Health-related fitness ensures your body will be at it best, giving you energy to go through all your tasks for the day.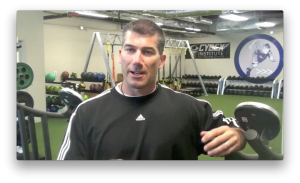 Performance-related fitness, on the other hand, is the measure of an athlete's balance, power, agility and speed. In soccer, it can be best described with the 5 S's: Speed, strength, stamina, suppleness and skill. It can be inferred that if one focus on achieving those 5 S, he is fit to play soccer. How then, do you achieve and hone the 5 S? Our whole season training will give you the practical step-by-step guide to achieving these invaluable 5 S.
Why is Soccer Conditioning Important?
Every soccer player wants to improve their conditioning and speed. Just Google "Improving Your Speed" and you will get 116,000,000 hits!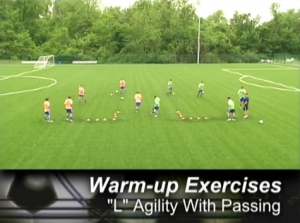 Warm-up Video from the Training Pack
BUT… how do we take soccer players, and IMPROVE THEIR SPEED?! Before we move forward its important to know, Speed and Conditioning can be taught! Within The Ultimate Soccer Conditioning Training Pack, we will break down each component of Speed & Conditioning, then outline how to train a soccer player to become faster, quicker and more explosive.
Improving the 10 Types of Speed, is a small eBook, that is big on performance; in it we will show you how to prepare your athletes to become faster through each of these 10 Crucial types of speed.
What makes The Ultimate Soccer Conditioning Training Pack so great?
An old coach named Ken Jones used to say, "If you do it fast enough, running around the parking lot picking up trash will improve your speed." So what makes Coaching Soccer Conditioning any different?
Well…a lot…
The Complete Soccer Conditioning Program eBooks and instructional videos will increase your knowledge of speed and conditioning (theory), & give you the practical tools to train better, faster, more conditioned athletes (practice).
We'll also help you identify specific weaknesses in your athletes. Once you reach a greater understanding of all the components of speed, agility and quickness you can become selective in how you implement various techniques and exercises into your training regime.
So let's see what you get…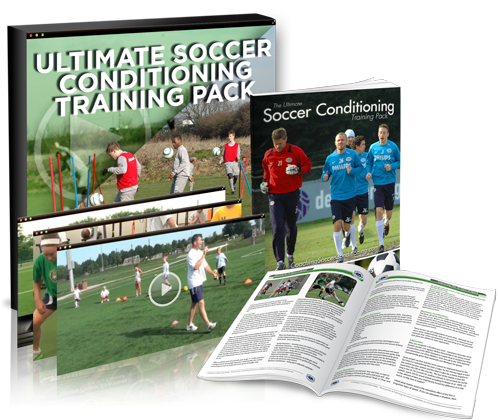 What's included in The Ultimate Soccer Conditioning Training Pack?
One of the Major League Soccer's most respected and highly regarded fitness coaches, David Tenney, will walk you through five key areas of modern soccer conditioning coaching, with the following Videos: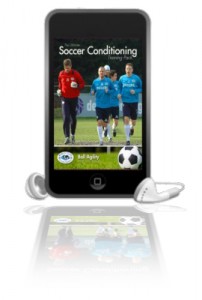 1. Warm-Up. Learn how to incorporate conditioning skills into your warm-up.
2. Speed. Learn how to build Speed/Power work into your training program, through practical drills and exercises.
3. Endurance. Learn how to create a soccer-specific training session designed to improve endurance.
4. Anaerobic. Train your players to sustain high intensity work for 30-seconds to 2-minute durations, so players become accustomed to playing while fatigued.
5. Aerobic. Train your players in practical soccer-specific Aerobic Functional Training Games that include both technical and tactical elements.
But that's not all…
We also have an ENTIRE season worth of Soccer Conditioning workouts featuring coach Scott Moody. These practical, guided training videos will give you the skills you need to condition your athletes for better speed, power and overall conditioning performance. Video topics include:
6. Warm-Up Activation7. Warm-Up Movement8. Warm-Up Neuromuscular9. Ball Agility10. Ball Based Agility11. Using Band Resistance in Training12. Medicine Ball Training13. Soccer Conditioning Quick Foot Drills14. Soccer Conditioning Strength Training15. Cool Down
But that's STILL not all…
Some other training programs might just leave you with the videos. But not us. We know that you need both inspiration, and training techniques; so how can you implement these strategies when coaching your team? We've developed an ADDITIONAL Soccer Conditioning program that you can begin implementing with your teams today.
16. Complete Soccer Conditioning Program – Exercises (eBook)
This Complete Soccer Conditioning Program by Scott Moody will give you practical instruction on the fundamentals of soccer conditioning. This eBook covers Warm-Up, Strength Exercises, Quick Foot Drills, Medicine Ball Drills, Band Resistance movement stabilization, Ball based Transition to Practice, Conditioning, Ball Agility, Cool Down, and more through 10 Chapters.
17. Complete Soccer Conditioning Program – Training Schedule (eBook)
Taking it from Tactical to Practical, Scott Moody will walk you through a 12 week training program that will give your players the Conditioning Edge.
But there's still MORE…
18. Improving the 10 Types of Speed (eBook)
We are also including the powerful eBook, Improving the 10 Types of Speed. This eBook will explain the various types of speed, how to train them, and how you can dramatically increase the speed and quickness of your players.
So with 15 videos, 3 eBooks, instant access, and the invaluable knowledge and expertise of two of the USA's top soccer conditioning specialists; what does this thing cost?
When it comes to improving the conditioning of your players and teams; quality and results are key. Some coaches pay thousands of dollars to attend symposiums and seminars to get the sort of training we're providing with the The Ultimate Soccer Conditioning Training Pack. But we aren't going to charge you anything near thousands. In this exclusively-digital format, you will receive every conceivable soccer conditioning exercise or drill that you will need in these 15 Training Videos and 3 eBooks… but what is it all worth?
We knew this content was worth hundreds…but we didn't want to make it that expensive. We want this Ulitmate Soccer Conditioning Training Pack to be accessible to ALL coaches of ALL levels: from MLS coaches all the way to club and rec. coaches.
So we are offering this entire package,The Ultimate Soccer Conditioning Training Pack for just $47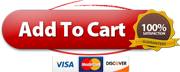 About Dave Tenney
Tenney was named the Seattle Sounders FC fitness coach on January 9, 2009. He is one of Major League Soccer's most respected and highly-regarded fitness coaches following two years in Kansas City.Prior to joining Sounders FC, during the 2007 and 2008 seasons, Tenney served as both fitness and goalkeeper coach for the KC Wizards. He also holds an 'A' license from the Czech Republic F.A. and NSCAA 'Premier' Diploma.Prior to MLS, Tenney held the same dual role for the George Mason University men's and women's teams for two seasons.
He earned his B.I.S. in coaching science from George Mason in 2005.While at George Mason, Tenney also served as director of coaching for the Washington Freedom youth teams from 2004-06 and as Maryland's girls director of ODP.Tenney's playing career features both collegiate and indoor professional honors. At Virginia Tech (1989-91) he served as team captain the final two seasons. As the Hokies' goalkeeper, he was voted Metro Conference Defensive MVP in 1989.
His professional career began overseas with Germany's SV Linx (1992-93) and FC Rastatt (1993-94). He returned home to play for the Washington Warthogs of the Continental Indoor Soccer League from 1994-97. He was with the Baltimore Blast of the NPSL from 1998-2000 and also starred for the Baton Rouge Bombers, earning second team all-EISL in 1998.
About Scott Moody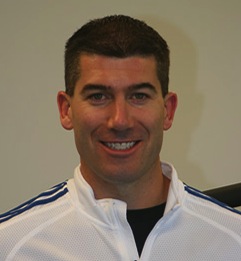 Scott Moody acts as the director of the SoccerFIT Academy in Overland Park, KS and has spent the last 10 years developing a curriculum that bridges the gap between the physical and the technical developmental aspects of soccer. His website, www.soccerfitacademy.com is designed to be an educational site that promotes discussion, offers ideas and breaks down current trends in research and training to offer suggestions as to how it can be applied to youth player development.
Scott also is a featured speaker, author and research fellow for numerous organizations, equipment manufacturers and online training magazines."Over the last 10 years, I have really come to enjoy the challenge of creating unique training programs for soccer players. The sport requires everything…speed, strength, reactive agility, aerobic fitness, repeated power, foot-eye coordination and above all, an unspoken communication and creative vision at full speed. It has been awesome to watch thousands of players come through this program and develop these areas!"—–Scott Moody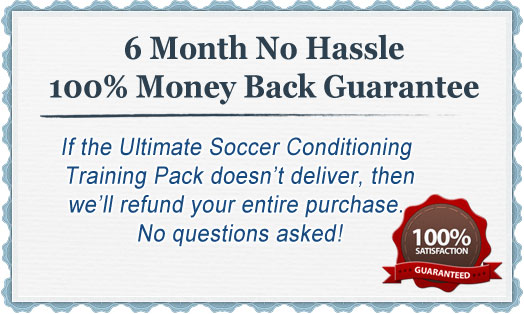 You won't get this kind of information on coaching and licensing courses. You won't get it by searching Youtube and the internet. In fact, this much quality soccer conditioning information is practically impossible to get anywhere else. The Ultimate Soccer Coaching Training Pack has everything you're going to need to train better, faster, more well-conditioned soccer players.
Anyone can offer you ideas. We give you practical, smart ways to implement soccer conditioning training into your practices.
What are you waiting for?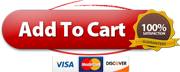 Yours,
Mike Saif
WORLD CLASS COACHING
P.S. If this kind of training is done by the world's top coaches like Jose Mourinho and Gus Hiddink, and top pro teams around the world, then you can be sure it is the way to go.
P.P.S. Remember, it doesn't matter how skillful or tactically proficient your team is, they need to be in good shape if they want to be successful and live up to their potential.
P.P.P.S. And the best reason of all to try this, is that it is covered by our 100% No Questions Asked Money Back Guarantee.
Order Your
Ultimate Soccer Conditioning Training Pack
| | |
| --- | --- |
| Get instant access to the 15 videos and 3 eBooks of the Ultimate Soccer Conditioning Training Pack – For as low as $23.50 | |
[wpsharely id="2168″]Thanks For Sharing[/wpsharely]