Welcome to the Training Center [i4w_db_FirstName],
Below you will find the videos and eBooks available in The Ultimate Soccer Conditioning Training Pack. When you are logged-in to the Training Center, you will also find quick-links to this dashboard, and other features in the Right » Sidebar.
Modern Soccer Conditioning Coaching
with David Tenney. Learn more about this resource.
Complete Soccer Conditioning – Exercises (eBook)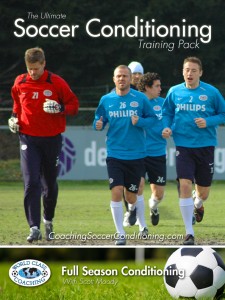 Download the eBook
This book, the first in a series of two, covers all of the drills and exercises necessary for the Complete Soccer Conditioning Program. These include Warm-up, Strength Exercises, Quick Foot Drills, Medicine Ball Drills, Band Resisted Movement Stabilization, Ball Based Transition to Practice, Conditioning, Ball Agility and a Cool Down routine.
Complete Soccer Conditioning – Training Program (eBook)

Download the eBook
The second of the series outlines an eleven week training program giving a specific number of sets and repetitions for each exercise organized in an efficient and effective way that will maximize the development of your players.
Improving the 10 Types of Speed (eBook)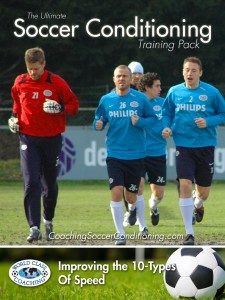 Download the eBook
In this eBook, we will break down each component of "SPEED", and then outline how that component allows a player to become fast, quick or explosive. Then we will offer exercises or drills that should help enhance that particular area. This eBook should increase your knowledge of speed, your exercise bank of drill work, and the speed of your athletes. I will also attempt to help you identify specific weaknesses in your athletes. Once you reach a greater understanding of all the components of speed, agility and quickness you can become selective in how you implement various protocols into your workouts. So let's get started! Learn more about this resource.
Here's something new for you. We've re-filmed the video clips with Scott Moody in HD.  Seven of them are complete and the other three should be complete in the next week or two.  We have kept the original videos below as an additional reference. Check back for even more of these videos soon.
The following videos, while rich in content, were produced before High Definition cameras were available. We are currently re-shooting and producing these videos, and they we will be updated shortly with High Definition versions. Thank you for your patience.