Modern Soccer Conditioning Coaching with David Tenney
Product Description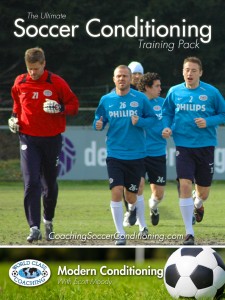 Conditioning or Technique? Are you using valuable time during your training sessions to condition your players with sprints and shuttle runs? Do you have to choose between fitness exercises and working on improving technique or tactics? If so, this is the DVD you have been waiting for.
Now you don't have to choose. This DVD will show you how to integrate conditioning into your regular training sessions while your players have a ball at their feet and they are improving their technique or you are working on team tactics.
Over the past few years giant strides have been made in the area of specialized conditioning for soccer players. Now soccer teams at the highest professional levels utilize this integrated form of "total" soccer training, in order to train more intelligently and efficiently. This DVD shows the following type of workouts…all done with a ball.
Warm-Up Exercises
Speed/Power Exercises
Speed Endurance Exercises
Anaerobic Exercises
Aerobic Functional Training Games
So now you can improve technique or work on the team tactics while improving the fitness and conditioning of your players.
Soccer Specific Conditioning videos are produced by Dave Tenney. Tenney is one of the few people in the United States who has distinguished himself as a soccer-specific fitness coach. Tenney is the Kansas City Wizards goalkeeping and fitness coach. He was previously the goalkeeping and fitness coach at George Mason University for both the men's and women's programs.