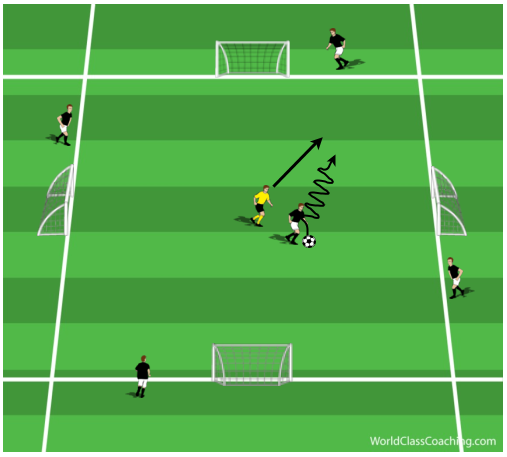 By Alex Trukan
The 'Four Goal 1v1 Game' helps the players to develop explosive power, an ability mainly used in 1v1 duels as well as when intercepting the ball or during shoulder to shoulder battles. It is evident all over the pitch that more explosive and powerful players get advantage and pose a real challenge for the opposition players, whether it's from the defending or attacking point of view. This practice links the physical and technical component together, focusing on explosive power as well as dribbling and an element of finishing. It is highly engaging and high tempo exercise suitable mostly for medium and advanced players.
Set up and directions
Organise a 25×25 square with one small sized goal on each side as shown on the diagram below. Set four players, one on each side of the square, next to the goals, with one ball each. Set two players inside the square, one of which is attacker and second one, defender.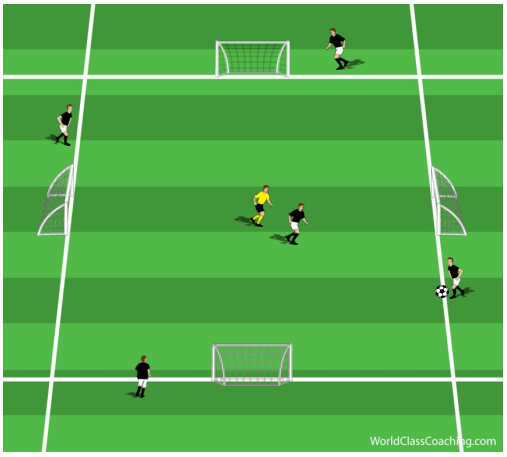 The practice starts with an attacker positioned in the middle of the square asking for the ball from one of the outside players. The choice of the outside players is free.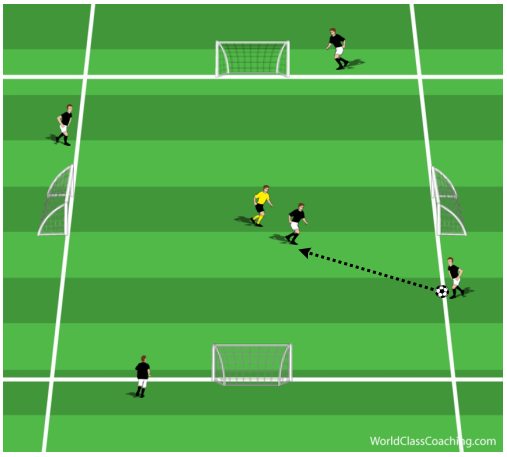 After the attacker receives the ball, his aim is to score into one of the three goals (not allowed to score into the goal on the side from where he received the ball). Before the goal is scored, a min. of 2 touches have to be taken.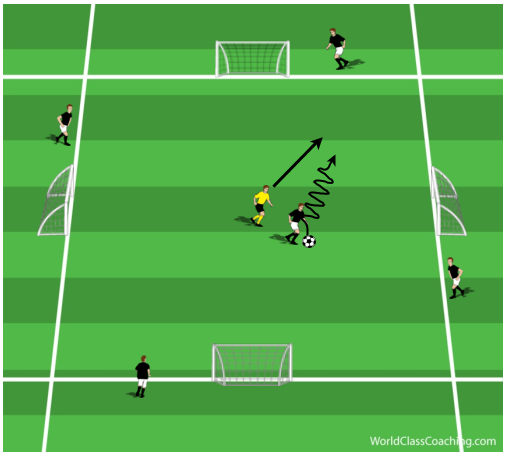 The attacker can change direction and try to lose a defender as many times as he wants but at the same time, he should try to finish as soon as possible (within 6 seconds). If the defender gets the ball, his aim is to score into the goal on the side where the ball came from.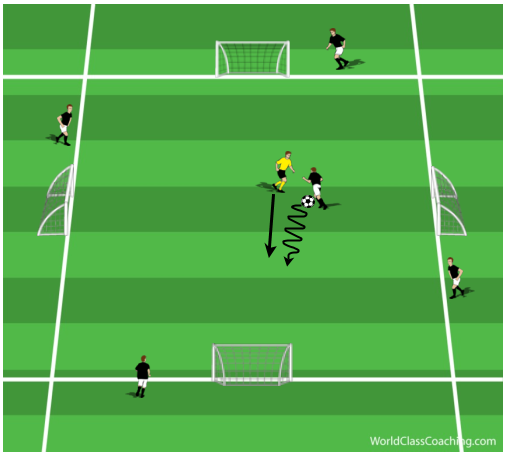 After the duel is finished, the attacker and defender change their positions with the passer (where the ball came from) and a player on the side where the goal was scored. Passer of the ball becomes an attacker and a second player becomes a defender. The game continues with the same rules applied.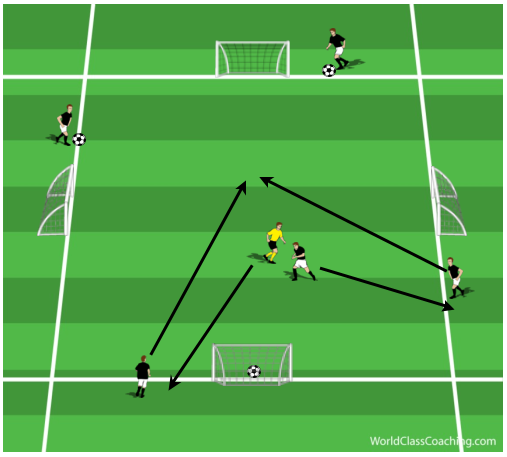 Timing
Each duel should last up to 6 seconds (100% intensity) and should be repeated 4-6 times in 1-2 series for each pair. The rest period between repetitions should be 1 minute (other pairs working in the middle) and between series – 4 minutes.
Variations
3 touches before a goal can be scored
One-two with an outside player before one-touch finish
Zone around the goals to score from
By Alex Trukan, Development Coach, Nottingham Forest
@AlexTrukan