By Daniel Severn
Team competitions are always fun. They demand each player to work to their maximum effort as they represent their team. This technical relay race will focus on techniques of dribbling the ball and ends with the player shooting.
Set Up and Directions
The exercise is set up as shown below. We have 3 players representing each team, Yellow and Black. Player one begins at the end line of the field, with a ball at his feet. Player one has a line of small cones in front of him. Player two waits behind the tall cones, which are placed in a zig-zag formation, diagonal from each other. Player three waits behind a ladder; this is the player that will finish the relay by taking a shot.
Player one will complete his station before passing the ball to the player at station two, who in turn completes his station and passes to player three; who completes his station beats the flag and takes a shot to finish.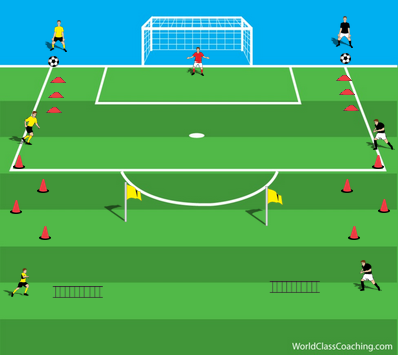 Station one – Dribble through the cones using theContinue reading