By Alex Trukan
This exercise is focused on developing anaerobic capacity. Improving this physical component enables players to sustain maximal speed and strength of actions throughout the whole match. In addition, the practice integrates dribbling and ball manipulation.
Set up and directions
Organise a square of appropriate dimensions to suit group characteristics. Place cones or sticks around the area as shown on diagram. Distance between each marker should be 6-8 yards (players should dribble on the distance of 15-25 yards overall).
Organise players with one ball each in the middle of the square. Their task is to dribble in the square (low speed). This can be altered with ball manipulation or juggling. Exercise is flexible in terms of number of players. The amount of dribbling "stations" should be adjusted accordingly to enable all players to practice at the same time.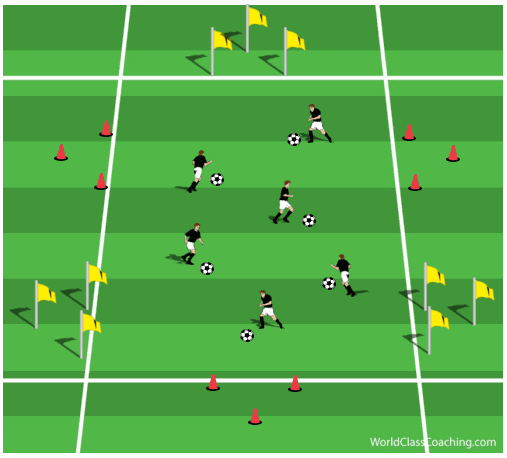 On the coach's signal, each player dribbles on the maximal speed to the nearest available group of cones and makes a

Read the rest of this article »